Its my first time I post in english, hope everybody will understand.
Tim is the Master of Distress ... he is the Lord of Vintage Is called out by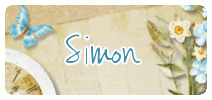 As I found the challenge on monday, I knew I have to do something special for this and here it comes ….. My "artwork" inspired by some video demos from Tim and a lot of I feel about the journey he often talk about…. I hope he will forgive me, that I used the poem seen on the prize… these are such wonderful words !!!!
That´s the way how I did it: I took 3 pieces of chipbord with holes at one side, cause I´m sure I would make a book. In my stock I found a big piece of an old worldmap that I used for all pages.
I did a lot of distressing, embossing and stamping all around. To get more depth I used a lot of distress inks and 2 smaller pieces for 2 more sides to get more capacity. For those pieces I cut out file tabs of real black leather with Alterations dies. All corners outside got metal book corners. There´s no vintage without buttons and bows and lace….so I used some ;o) Finally I improved the whole work with some different colored stickles. Take a look at more details:
Also join in the... Stamptacular-Challenge # 73 more than one stamp to use Bunny Zoe's #3 --- VINTAGE Sir Stampalot August ---- Bring on the Bling ~ with a lot of Stickles Stampin for the Weekingend #45 --- Anything goes